Fermo 2014
5th Edition of the INTERNATIONAL WORKSHOP
Digital Storytelling, Filmmaking, Arts&Crafts and Food.
June 21st – July 5th Fermo, ITALY
a multifaceted experimental approach to read and communicate the beauty of a territory. Using new media tools, the workshop Fermo 2014 crafts an innovative interface to tell stories on the town of Fermo, its richness in history, characters and traditions. The contemporary digital era heavily relies on transmedia: filmmaking, data visualization and interactive media design, to internationally communicate local contents and information.
This is the result of a international team of  students, artists and young professionals that met for the first time in Fermo. During the 2-week program they attended lectures on film-making, storytelling, new media, cinematography, special efx and local culture, discovered the territory, and in 4 days they produced the project : FERMO A COLOR STORY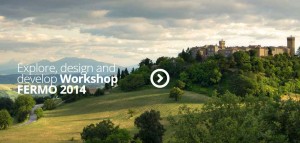 artists and designers
GEORG BOCH
KAIDE WANG
LIANG MIAOZONG
MIRIAM WENTZEL
NANCY SABBAGH
NUSHIN ISABELLE YAZDANI
SERENA LUGARI
instructors
ALESSANDRO MARIANANTONI
ALESSIA ROTONDO
VALENTINA CIARAPICA
mentors
JOHN BRUNO
DANTE SPINOTTI
sponsors
LE CORTI DEI FARFENSI
FONDAZIONE AZZURRA
FONDAZIONE BICE BUGATTI
with the support of
FERMO CHAMBER OF COMMERCE
MUNICIPALITY OF FERMO
social media
MARTA SOLIGO Mediars
ILARIA BARBOTTI IgersItalia
VISSIA LUCARELLI IgersFermo
ANDREA BRACONI IgersFermo
web designer integrator
MARCO SGNAOLIN
the project : FERMO A COLOR STORY
flickr : photos
instagram : the project launched the hastag #coloseeker still in use
twitter: @MEDIARSeu
instagram : @MEDIARSeu
Facebook Page : MEDIARS FERMO2014
TV: eTV Macerata