Workshops
with Bice Bugatti Foundation (Milano) and MEDIARS ENTERTAINMENT (Los Angeles)
6th INTERNATIONAL WORKSHOP
MEDIARS EXPO MILANO 2015
Energy for Life
Explore, Design, Develop, Promote and Exhibit
LIGHT + SPACE + FOOD
Milano, June 20th – July 4th, 2015
apply now info@mediars.eu
Join fellow artists, designers, video artists and developers  from June 20 to July 4, 2015 in Milano, as we explore innovative new media art production and  promotion techniques. MEDIARS EXPO MILANO 2015  is the 6th edition of the multifaceted experimental approach for the multidimensional contemporary artists. The workshop's participants will learn technical skills for:
Transmedia Storytelling
Professional time-lapse video production
Video projection mapping
Promote your art through social media
Everything you need to produce and exhibit a collective artwork in one of the historical Villa-Museum provided by Bice Bugatti Foundation. After evaluation the art piece will take part to a tour including Los Angeles. Apply soon, a limited number of scholarships will be awarded! Email address to request the application package: info@mediars.eu Project website: www.mediars.eu/expomilano2015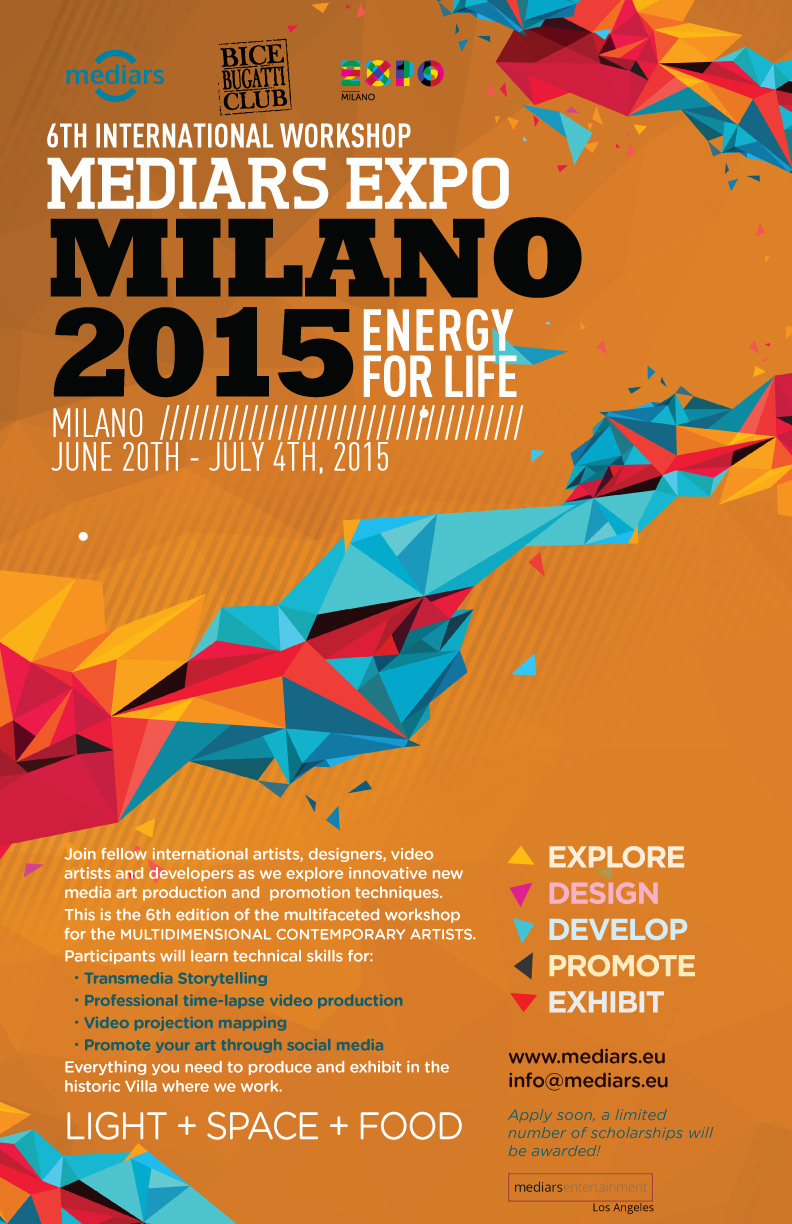 TRANSMEDIA STORYTELLING
The contemporary digital era heavily relies on: video-making, mobile devices, social media,  and events,  to  internationally communicate stories. In this workshop, the transmedial approach is intended as a multi media platform for the creation of a art project from concept to production and promotion and finally to exhibit the work.
TIME-LAPSE VIDEO PRODUCTION
Hundreds of timelapse videos have been used in the recent years to create video art, viral movie clips and other video contents. In this program we'll go from the basics to the most advanced techniques to create original timelapse (TL) videos. From the less expensive TL made with a iPhone or a GoPro to the more professional systems. Participants we'll be hands on with camera motion control systems, Adobe Lightroom, Adode After Effects and other specialized  TL software.
VIDEO PROJECTION MAPPING
Video mapping is finally a large component of the entertainment industry and art festivals . While during the classes we'll present several case studies showcasing the state of the art, during design and production the participants will be hands on with these techniques as aesthetic components of their artwork.
PROMOTION
The current era offers young artists a full spectrum of tools to self emerge and get the work out there. Key element here is a good balance between creativity and planning. The program covers examples (direct experience)  with practical instructions about: setting up your social media platform, creating your own crowd-funding  campaign and promoting an event.
THE INTERNATIONAL WORKSHOP
It is a 2-week full-time course on visual arts, media theory and technology in their relation to the place. The workshop is designed for students and professionals, scholars and artists from cinema, graphic design, architecture, web designers, media arts and technical fields. Classes are in English with high quality tutoring, with the main goal to teach skills needed to produce a multimedia art work that will be exhibited in the historic villa. Moreover, this experience abroad has already established an ongoing and growing dialogue between international artists. This workshop is designed to expand participants' creativity and skills in production of videos and interactive contents through new media making, while widening their knowledge and understanding of the current scene within this innovative and multidisciplinary field. This intensive program is a unique opportunity to produce and exhibit a artwork in a internationally renowned location.
This workshop is organized by the non-profit association MEDIARS (Centro Sperimentale di Media Interattivi per l'Arte e lo Spettacolo www.mediars.eu ) in collaboration with the local municipality. Click here to read the complete list of our supporters and partners.
TOURS
Organized in Milano, participants of the two-week workshop will discover this city, visit the EXPO
PROGRAM AT A GLANCE
2-week workshop in Italy plus cultural activities
No previous Italian language required
Program fee includes: tuition, housing, EXPO ticket. While the airfare is not included, information about convenient airfare can be provided upon request.
Open to students, professionals and any scholar interested in the interdisciplinary field of technology and art
The Workshop includes lectures and lab hours
With Bugatti Foundation, the MEDIARS staff and Director organize cultural activities and housing accommodations and are available 24/7 in case of emergencies.
We expect the international participants to arrive  June 20th and leave July 4th from Milano's International airports. Let us know how you are planning to arrive, we will provide directions. Let us know your travel schedule as soon as it's ready
WORKSHOP PROGRAM
Intensive program with lectures in the mornings and lab work in the afternoons plus cultural activities Ask for the application package at info@mediars.eu
COSTS
Contacts us for last minute enrollment
Fee after the scholarship:  400 USD  (400 Euros)
Let us know in case you don't need accommodation, the cost will be reduced.
WHAT IS INCLUDED IN THE COSTS
Housing
Tuition & fees
Overseas Insurance
Studio Equipment and Software, material for the exhibit
Free entrance at the EXPO MILANO 2015 for all participants!
Participants need to bring their laptop to be independent.
WHAT IS NOT INCLUDED
Meals and flight ticket are not included in the cost. But a convenient round trip airfare can be provided in an early stage through a local travel agency, upon request. Some of the accommodations are provided with kitchen.
IMPORTANT Any student contemplating studying abroad should apply for a passport immediately. (For US citizens that are planning to stay less then 3 months no visa is required).
Participants from China need to apply for visa at the Italian Consulate. For further information or request an application package please contact the center.
CONTACT: Alessandro Marianantoni Program Director alex@mediars.eu Centro Sperimentale MEDIARS
April 15, 2015 is the deadline for the application materials. Interested individuals are encouraged to apply early, as spaces are limited and will be filled as applications are reviewed and, when needed, telephone interviews are conducted.
SELECTION PROCESS
Please contact us at info@mediars.eu with any questions or concerns regarding the application process and/or curriculum.  Upon completion of the application process, all Workshop members receive information about preparatory readings  and preparation for the upcoming processes.
Application materials should be sent by April 15, 2015 to: info@mediars.eu
There are two levels of scholarships:
– $550 is provided directly by Mediars and allows the accepted participants to enroll at the discounted fee: $1,850 ( instead of the full cost of $2,400)
– $1,450 is a combination between sponsors and Mediars' efforts, combined to the previous one it brings the fees down to $400 !
The evaluation starts at the moment we receive the material, the accepted participants are notified right away. The scholarships are notified by April 20th.
Participants and scholarships are selected at the incontestable discretion of the program directors.
Candidates are selected from a broad range of fields, in the past we had: writers, developers, painters, architects, filmmakers, set designer, sculptors, web designers, illustrators, journalists, stylists. Selected participants show dedication to the art practice, quality of work, technical skills and production capability.
Selection for scholarships is highly competitive, 30 applications were received last year.
Candidates produce a group project.
In case of equivalent evaluations, the scholarship goes to the candidate that demonstrates to possess technical skills needed to complete the ideal team of participants.
Italian language  isn't required, all activities are conducted in English.
If seats and accommodation are still available after the selection we will keep accepting applications until the beginning of the workshop.
After the payment of a deposit of $600, selected candidates confirm the seat and receive an acceptance letter. Eventually, this letter is required to apply for a visa.