International Workshop
ITALIAN CLOSE-UP 2013 is the 4th INTERNATIONAL WORKSHOP
New Media & Filmmaking:
Architecture | Fashion | Design | Landscape | Food.
June 22nd – July 6th, 2013
Lake Como, Italy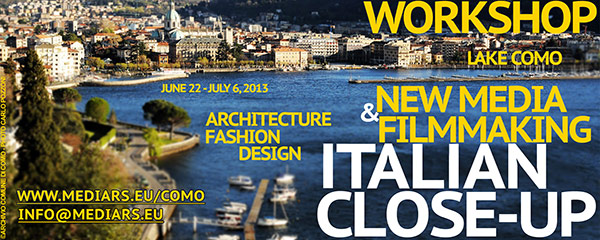 This edition will be more open and connected then ever, Mediars will be working on the project: ITALIAN CLOSE-UP 2013
Transmedia, a multifaceted experimental approach to read and communicate the beauty of a territory. Using new media tools, the workshop "Italian Close-Up" crafts an innovative interface to tell stories on the Lake Como, its richness in architecture, fashion and landscape.
The contemporary digital era heavily relies on transmedia: filmmaking, data visualization and interactive media design, to internationally communicate local contents and information. Communication skills today develop from a strong sensibility to details close-up. No place more than Italy can teach us about details and elegance in fashion, art, architecture, landscape and food culture.
more info on ITALIAN CLOSE-UP 2013 at www.mediars.eu/como/
PARTNERS
WHAT YOU WILL LEARN
This workshop is designed to expand participants' creativity and skills in production of videos and interactive contents through new media making, while widening their knowledge and understanding of the current scene within this innovative and multidisciplinary field. This intensive program is a unique opportunity to produce a short film and interactive digital contents for architecture, landscape, fashion and design. The workshop teaches conceptual background, production methods and design skills.
THE INTERNATIONAL WORKSHOP
Organized in Como, Italy, students of the two-week workshop will discover this city renowned for its lake, villas, food, silk manufacturing, rolling mountain vistas and serene beauty embedded in centuries of architectural marvel and masterpieces by modernist architect Giuseppe Terragni.
It is a  full-time course on visual arts, media theory and technology in their relation to the place. The workshop is designed for students and professionals, scholars and artists from cinema, graphic design, architecture, web designers, media arts and technical fields.
Classes are in English with a high quality tutoring, they are thought for the students to produce at the end of the training, an interactive multimedia art work that will be exhibited in the medieval town. Moreover, this experience abroad has already established an ongoing and growing dialogue between international artists.
This workshop is organized by the non-profit association MEDIARS (Centro Sperimentale di Media Interattivi per l'Arte e lo Spettacolo www.mediars.eu ) in collaboration with the local municipality and invites international faculties and scholars from the University of Southern California, University of California Los Angeles. With regard to the final work the students will use the technology owned by the Center, and they are free to bring theirs as well. The teachers would support and work as facilitators for the students to get the collective projects done.
Fees include accomdations, tuitions, tour guides and local transportations but not include flights and meals. Please ensure all equipment is covered by your own insurance as the organization takes no responsibility for items lost or stolen at the workshop. Travel Health insurance is required.
All participants travelling from abroad are responsible for securing valid passport and any visa requirement; MEDIARS, like for past experiences, supports visa applicants. After payment of the deposit, the organization can provide a letter confirming participation in the workshop.
Apply NOW!
Request Application package at info@mediars.eu
Rates including accommodation Euros 1,750 or $2,400
Rates without accommodation Euros 1,120 or $1,500
SCIENTIFIC COMMITTEE AND FACULTIES
Alessandro Marianantoni
Senior Researcher at UCLA REMAP, Film, TV and Digital Media, and director at MEDIARS is working on cyberphysical interactive systems: from transmedia/new media projects to urban art installations www.alexrieti.com
Ilaria Mazzoleni
SCI-Arc Faculty, Architect and Designer, working on urban issues connected to the interrelation between nature and built environment. www.imstudio.us
Caterina Lunghi
Cinema and Fashion Journalist. Project Assistant at the Domus Academy in Milan. Co-author of the book "Beyond CRM – Customer Experience in the Digital Era. Strategies, Best Practices, Scenarios in Fashion and Luxury."
Read what past participants said about our program here